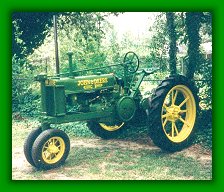 I'm James Borders from Macon, Georgia, but you can call me "Tractorboy". This is my 1935 John Deere B 1935 model serial #7883 . A friend I work with told me about an old tractor that was setting in a man's yard not too far from where I live, so I went a looking and sure enough there it was . It had been brush painted with old yellow roofing paint and had been sitting for many years. The paint had saved most of the carcass but it had to be fully restored. I sat and talked tractors all afternoon with the man and shelled butterbeans on his porch while he told many stories about the old tractor. Then he said he needed to get shed of it and wanted to know if I might be interested. Naturally I was, so he told me how much and away I went to the bank with my heart in high gear.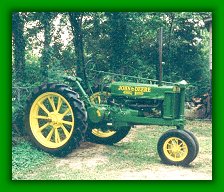 Then when I got back he said he had another one out back in a tree and I could get it too. It was a late H but it was broken up real bad . It had taken a fall and then he let it freeze up so it was a real project to restore. If I can fix these by myself I know all of the guys out there can do it!! Please turn the PAGE to find out about the H.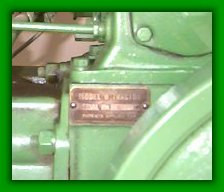 During the first year of production, the serial number tag on the Model B's was made of brass. The 1935 B's are affectionately known as "Brass Tags". They are not worth more money because they have BRASS tags, but because they are 1935's!
Please turn the PAGE to find out about the H

You can contact me at: Cpartractorboy@aol.com