My buddy and I got up early one Saturday morning and went to a tractor show about 80 miles from where I live. It was in June and was terrible hot. We stayed til about 2:00 P.M. We left and naturally we did not want to ride back the same way we went so we took another route. We were riding along yacking like we always do and then I saw it. It was a pile of old stuff on a fence so I slammed on brakes, scared my Buddy and turned around and went back for another look, went back to the nearest shop inquired and found the owners servicing up pulp wood trucks . We talked, played with the man's rat terrier dog, sat with him in his shop a while and he told us all about the old stuff and said he would like to get rid of it. We then went on down the road a ways and then some old Deeres caught our eyes. We stopped there and talked and drooled over them and went on towards home so far empty handed with nothing but good talk. We passed some more old tractors but they weren't for sale so towards home I went.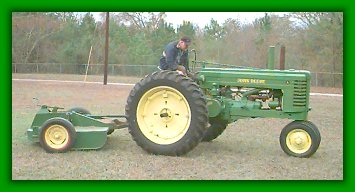 It was getting late and I told my Buddy I knew of 1 more in a creek bottom so we stopped and looked. It was there in the woods, an old A John Deere 1942 or 43 model. I had no idea who owned it or the land so I figured it was a hopeless case. I asked a friend that lived nearby and she said she would find out for me. A few weeks went by and she told me the last name only and told me he still lived in the county. I grabbed the phone book started calling and after a few calls I found him, talked to him made a deal went and paid him and got it home, water rats and all. It was rotted pretty bad but that did not stop me, It was a challenge to save it. After working on it for 6 months or so this is what I saved. I take it to shows and people really like it.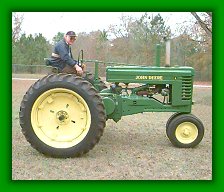 Well this one is a 1947 A, and was one of three old scrappers I found. It had been abused by pulling logs and the guy had broken the gears in the transmission. It was a real challenge to fix this one too. After I got it running and bragged to my buddy how good it run, I pulled it back into the shop and parked it and stooped down to check the oil on the cock, oops, I mean water, oh my, the cylinder on the right was busted and had to be sleeved. That hurt bad... money and feelings, but it was fixed and now it does a real good job. I pull a harrow and hammermill with it . It really has plenty of power to farm with.